Are we really doing Church "By the Book"? / Lebt die Kirche wirklich gem."dem Buch"?
Why does the pastor preach a sermon at every service? / Warum predigt der Pastor in jedem Gottesdienst?
Why do church services seem so similar week after week? / Warum ist ein Gottesdienst wie der andere?
Why does the congregation sit passively in pews? / Warum muss die Versammlung so passiv in den Stühlen sitzen?
---
Auch auf Deutsch erhältlich! Ein MUSS für jeden, der manchmal auf der Kirchenbank einnickt. Siehe z.B. Amazon.de Heidnisches Christentum?.
---
This book gives many answers to the pagan origins of Christianity:
Pagan Christianity?
Exploring the Roots of our Church Practices
Frank Viola & George Barna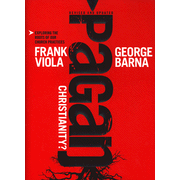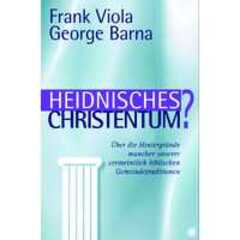 This great book shows the pagan origins of
CHAPTER 2: THE CHURCH BUILDING — Das Kirchengebäude
CHAPTER 3: THE ORDER OF WORSHIP — Die Gottesdienstordnung
CHAPTER 4: THE SERMON — Die Predigt
CHAPTER 5: THE PASTOR — Das Amt des Pastors oder Pfarrers
CHAPTER 6: SUNDAY MORNING COSTUMES — Schick am Sonntagmorgen
CHAPTER 7: MINISTERS OF MUSIC — Die Kirchenmusiker
CHAPTER 8: TITHING AND CLERGY SALARIES — Der Zehnte und das Gehalt des Klerus
CHAPTER 9: BAPTISM AND THE LORD'S SUPPER — Taufe und Abendmahl
CHAPTER 10: CHRISTIAN EDUCATION — Die christliche Ausbildung
… and it encourages to do church again as it was practiced in the 1st Century AD!
… ermutigt die Kirche zu der Praxis der Gemeinde im 1.Jhdt.n.Chr. zurückzukehren!
Order the book here: www.paganchristianity.org or at Amazon.
An introduction can be downloaded as a .pdf (Adobe) file from the Internet.
Please report broken links to TMRelay (@) gmx.ch. Thank you.
Bitte ungültige Links an TMRelay (@) gmx.ch melden. Danke.
(Rev.: 4-MAR-2014)


Top of page
.
.
.